Map Unavailable
Date/Time
Date(s) - 11/05/2018 - 13/05/2018
12:00 - 17:00
Location
Llangollen
Categories No Categories
EASTERN BLOC VEHICLE WEEKEND – FRI – SUN, 11 – 13 MAY 2018
Join us for a memorable weekend of Eastern Bloc motoring based on Llangollen in Denbighshire, North Wales.  Eastern Bloc Vehicle Weekend has runs through spectacular Welsh scenery, plus the option to include trains, boats and planes and a nuclear bunker too!
Details below – there are no fees for taking part, and you can join us for all or any part of the weekend.
All events organised by the Wartburg Trabant IFA Club UK are open to all classic vehicles designed behind the Iron Curtain.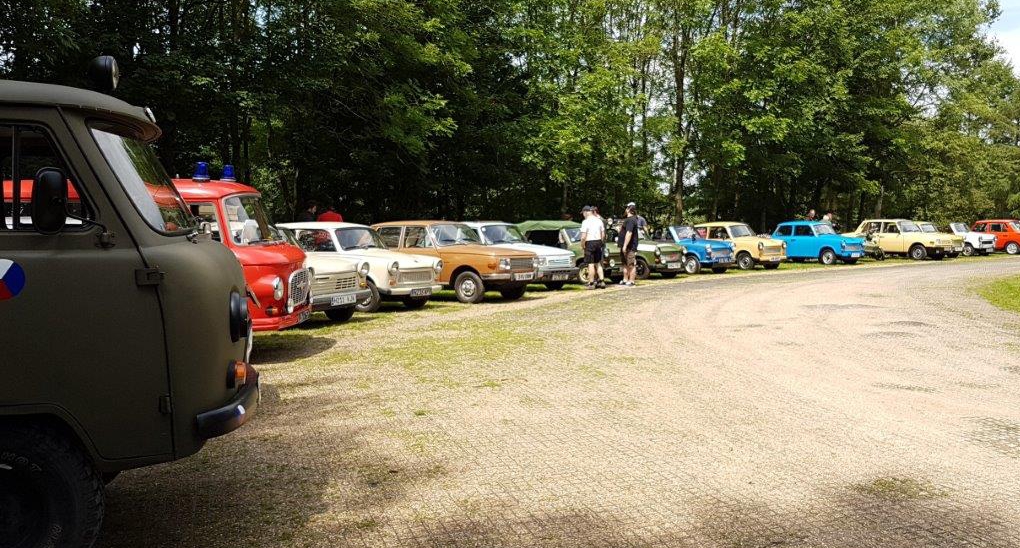 Friday 11 May 18.
Meet from midday at the National Cold War Exhibition at the Royal Airforce Museum Cosford, in Shropshire.  Over 70 aircraft of international importance (e.g. the world's oldest Spitfire and a Lincoln Bomber) are housed in three wartime hangars and within the National Cold War Exhibition.
Around 16:00hrs we drive 50 miles into Wales and the attractive town of Llangollen.
Evening meal is booked in the famous Chainbridge Hotel balanced on the side of the River Dee just a few miles from Llangollen.
Saturday 12 May 17.
Those more local or staying over can enjoy a return trip along the beautiful Dee valley on the Llangollen Railway (steam service on this day).  We start at Corwen, 10 miles from Llangollen, where there is parking.
Around lunchtime we meet with those recently arrived for a 70 mile drive through superb Snowdonia scenery including mountain passes and alongside Lake Bala, the largest natural lake in Wales.  We'll stop several times for the scenery, photos and at a traditional Welsh pub for refreshments.
During the day, we will also visit Llangollen Motor Museum (a 'quirky' collection of 60+ vehicles).
Evening meal is booked at the Whitewaters Hotel, Llangollen.

Sunday 13 May 17.
We meet at Jones the Boats, near Llangollen for a 45 minute narrow boat return trip across Pontcysyllte Aqueduct.  The 18-arch stone and cast iron structure, designed by Thomas Telford, is now a World Heritage Site.  It took ten years to build and was completed in 1805.  The aqueduct is over 300m long and carries the Llangollen Canal 40m above the River Dee.
Back on wheels, we drive up the scenic Horseshoe Pass north of Llangollen, including a refreshment stop at the famous Ponderosa Café.  This steep climb was used for testing new Sentinel steam waggons from the factory in Shrewsbury.
We cross back into England and continue to Hack Green Secret Nuclear Bunker.  This site was used in the defence of Britain for almost 60 years covering WWII and Cold War periods.   Tourists can take a 2hr audio tour around this impressive site and bunker.  Refreshments and usual facilities available.
Remember, you are free to join us for all, or any part, of the weekend.  You might wish to add a few more days travelling and sightseeing in this beautiful area.

Accommodation:
Tourists will make their own bookings depending on personal preferences.  There is a wide selection of accommodation, from camping, B&Bs, to quality hotels, in and around Llangollen (see Booking.com and many more sites).
For camping, the suggested site is Wern Isaf Farm close to Llangollen, with grand views over the Dee valley.  All the usual facilities for tents, caravans and motor caravans including electric hook up and hard standing.  There are caravans for hire too.  Contact direct to make your reservation – see below.
Interested?
Let us know if joining us using the Bookings link below – we will confirm final details nearer the time.  Important:  to reserve a place for Friday or Saturday evening meals, and the canal trip, use the comment box on the booking form below.
Enquiries to:  events[at]IFAClub.co.uk  .
Richard Hemington, 24 Recreation Road, Colchester, CO1 2HE, UK.
Mobile:   (0049) (0)7736 962572:
More info:
RAF Cosford:  RAF_Museum_Cosford + National_Cold_War_Museum.   Free admission, £4 parking.
Chainbridge Hotel:  https://www.chainbridgehotel.com/
Evening meals around £10.  In 2018 Good Beer Guide.  Accommodation.  Friday meal booked for 19:30 hrs.
Wern Isaf Farm, Llangollen, Denbighshire, LL20 8DU. Tel: 01978 860632 / Mobile: 07974 797828 / Mobile: 07711 513455.
Website:  http://www.wernisaf.co.uk .  Email: info@wernisaf.co.uk .
Whitewaters Hotel:  www.whitewatershotel.co.uk
Evening meals from around £11.  In 2018 Good Beer Guide.  Accommodation.  Friday meal booked for 19:30 hrs.
Llangollen Motor Museum: Pentre Felin, Llangollen, LL20 8EE, http://llangollenmotormuseum.co.uk/ .  Adult £5   01978 860324 .  The museum has very basic camping on an adjacent field (cold water, no shower).  No refreshments.
EVO Triangle – for those wanting a longer drive on Saturday:   http://www.greatestdrivingroads.com/great_roads/The_Evo_Triangle.html
Llangollen Railway:  http://llangollen-railway.co.uk/  Return fare £18
Pontcysyllte Aqueduct:  https://www.pontcysyllte-aqueduct.co.uk/   World Heritage site.  Jones the Boats:  http://www.canaltrip.co.uk/  45 min canal trip over aqueduct:  Adult £6.50
Hack Green Secret Nuclear Bunker:  http://www.hackgreen.co.uk/  Adult £9.25.  Closes 5pm on Sunday.
Bookings
Bookings are closed for this event.