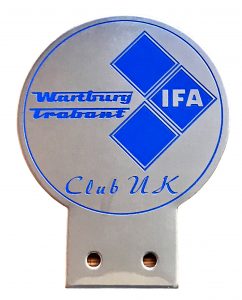 Grill badge
Made from stainless steel, with the logo and lettering etched into the badge and coloured blue, they can be fitted to your grill or a regalia bar. No fixings are
supplied. The diameter of the circular badge top is 77mm, and the whole badge is 98mm long. The 'tongue' is 38mm wide and the holes are centred at 20mm.
Only 16 are available at the time of writing. They are £9.95 each, including P&P – SOLD OUT!
---
Tax Disc Holder
A standard traditional style, they are 110mm overall diameter and accept a UK tax disc or reproduction vintage tax disc. £2.08 each, including P&P – SOLD OUT!