Map Unavailable
Date/Time
Date(s) - 22/06/2018 - 29/06/2018
20:00 - 09:00
Location
Netherlands
Categories No Categories
Following the resounding success of the Bangers to Bratwurst tour to Germany in 2017, we are excited to bring you the sequel Garden of Edam tour.
As before, this is not an official IFA Club event, although it is organised by IFA Club members, for IFA Club members and all owners of Cold War classic vehicles.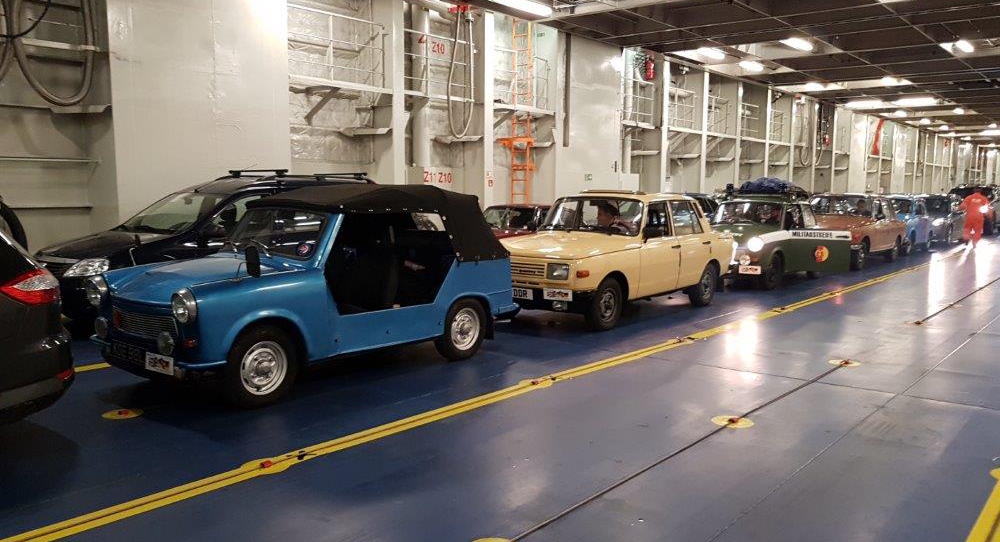 Participants will make own ferry bookings.  The choice of route and sailing is yours but we anticipate most will catch the 10pm sailing from Harwich on Fri 22 June arriving for an early but refreshed start next morning at the Hoek of Holland.  Similarly, return for most will likely be the 11pm sailing on Thu 28 June from the Hoek back to Harwich.
Accommodation for many will be good quality campsite(s).  More solid accommodation will likely be available nearby for those seeking home comforts.

The final itinerary will likely include all of the following:
RAILWAY MUSEUM, Utrecht:  https://www.spoorwegmuseum.nl/ . 
The Dutch equivalent of the National Railway Museum, York.
SPEELKLOK MUSEUM, Utrecht:  https://www.museumspeelklok.nl/lang/en  Covering the invention and development of all sorts of self-playing musical instruments: musical clocks, musical boxes, orchestrions (self-playing orchestras) and the traditional Dutch street organs.
HOORN
A largely 16th century Hanseatic town and old port on the then Zuider-Zee. The harbour is interesting for the large collection of sailing boats and views across the Markermeer.
HOORN-MEDEMBLIK STEAM TRAIN:  http://www.stoomtram.nl/en
A steam hauled train across the polders to the old town of Medemblik. The loco shed is open and staff welcoming. The train stops at Wognum to show how old stations, signalling and goods were run. Carriages are sometimes old tram-style with lots of varnished wood and brass. The locos are tram engines distinctive to the low countries.
ROUND TRIP ACROSS AFLUITSDIJK (Zuiderzee Dam).
A 29km drive over this outstanding feat of Dutch engineering to control and reclaim land from the sea.  We'll visit Giethoorn, near Meppel – this village is only served by waterways – no roads here. Then on to Harlingen – another town with lots of old buildings and churches with some cafes.
EDAM-MONNICKENDAM-MARKEN.
A visit Edam then onto the island – the wooden buildings of the old fishing village of Marken are the only remaining settlement left after the damming of the Zuiderzee. Other villages were lost to floods.
DUTCH NAVAL MUSEUM, Den Helder:  http://www.marinemuseum.nl/en/ .
An ex-naval dockyard with historic buildings, a 1960s submarine, the bridge from a modern destroyer and another warship, plus collections from 1815 till now.  The dockyard is still used by the Dutch navy for parades etc.
ZUIDERZEE MUSEUM, Enkhuizen:  http://www.zuiderzeemuseum.nl/en/10/home/ . This museum is the Dutch answer to Beamish and is a large collection of old buildings rescued from around the country and rebuilt into a village, with shops, church, school, steam-powered laundry, cheese store, mill, fish smokery etc. Many buildings have guides to explain how people lived in the different eras and if you are lucky you may get a period snack to eat.
LOUWMAN CAR MUSEUM, Den Haag:  info@louwmanmuseum.nl
The collection consists of over two hundred and fifty stunning antique and classic cars. Connoisseurs consider it to be one of the most beautiful private collections in the world. The museum was started in 1934 and is housed in a distinctive architect-designed building.
TERSCHELLING ISLAND & BUNKER MUSEUM:  https://www.rederij-doeksen.nl/en & http://bunkersterschelling.nl/ This is one of the smaller islands but has dunes, nature reserves etc and an extensive German bunker complex from WW2.  The cost of the ferry may rule out a visit here, but further examples of the Atlantic Wall coastal defences are open for viewing.
STEAM-POWERED WATER PUMPING STATION, Molenwijk, Harlemmermeer:
http://www.cruquiusmuseum.nl/englishsite/english.html
http://www.haarlemmermeermuseum.nl/en/cruquius-museum–world-largest-steam-engine
The Cruquius pumping station is a beautiful neo Gothic building. The building, the engine and pumps were never modernised or modified – the drainage station is just as it was built in 1840s. The steam engine has the largest cylinder diameter in the world, almost 3.5m.
Batavia VOC ship, Lelystad: http://www.bataviawerf.nl/ .
Replica Dutch E India Co wooden sailing ship and period shipyard with another wooden vessel being built.
DEPENDING ON TIME AND WEATHER, OTHER VISITS MAY INCLUDE:
Draaiorgel Museum, Haarlem.
Gouda cheese market
DOM TOWER, Utrecht
Near to the Speelklok museum, a long climb with steep steps but the views stretch for many km around, weather allowing.
Stadskanall-Veendam STAR Railway: http://www.stadskanaalrail.nl/ A possible alternative to the HSM train.
Let us know if interested and we'll keep you up to date as plans for the Garden of Edam tour become more definite:
Adam.drake-brockman:     hare_about@yahoo.co.uk
John Castle:                              castle@moorsweb.co.uk