Map Unavailable
Date/Time
Date(s) - 28/05/2021 - 31/05/2021
All Day
Categories No Categories
We're back with our first post-lockdown event, and our first visit to the North East!  Make a long weekend or join us for part of the event – all Eastern Bloc Classics are welcome.
The weekend has been assembled by IFA Club regulars Barbara Hastings, Steve Moses and Martin Stead taking best advantage of their local knowledge.  There are no fees for taking part other than usual venue admission charges.
Friday:  Meet from noon at Head of Steam Museum, Darlington.
This museum is located on the 1825 route of the Stockton & Darlington Railway, the world's first steam-powered passenger railway. Entry – £4.95 (adult) £3.75 (concessions).
Saturday:  Beamish – The Living Museum of the North. 
We'll be displaying our vehicles within the museum itself!  Arrive at the museum by 9.45am prompt for entry to our area.  No movement of cars is permitted whilst the museum is open so no departure before 5.15pm.  A whole day won't be enough to see all of this world class museum!  Adult admission for our visit is just £7 – this is a huge discount on normal prices and participants will be given a free museum tour guide normally priced at £6!  Please have £7 cash ready on the day.  Contact Barbara below if going with vehicle details and numbers in vehice.
Sunday:   Eastern Bloc Vehicle Road Run.
A full day through some of England's finest scenery including into Northumberland National Park area of outstanding natural beauty.  Depart 10am near the Penshaw Monument, Sunderland, coffee break at Parkhead Tearoom (former Stockton & Darlington Railway station), lunch at Hexham then up towards Hadrian's Wall, Kielder Forest and the Otterburn Ranges with a tea break at Kielder Water Visitor centre.  Contact Barbara below to receive route map and timings.
Monday:   Tanfield Railway.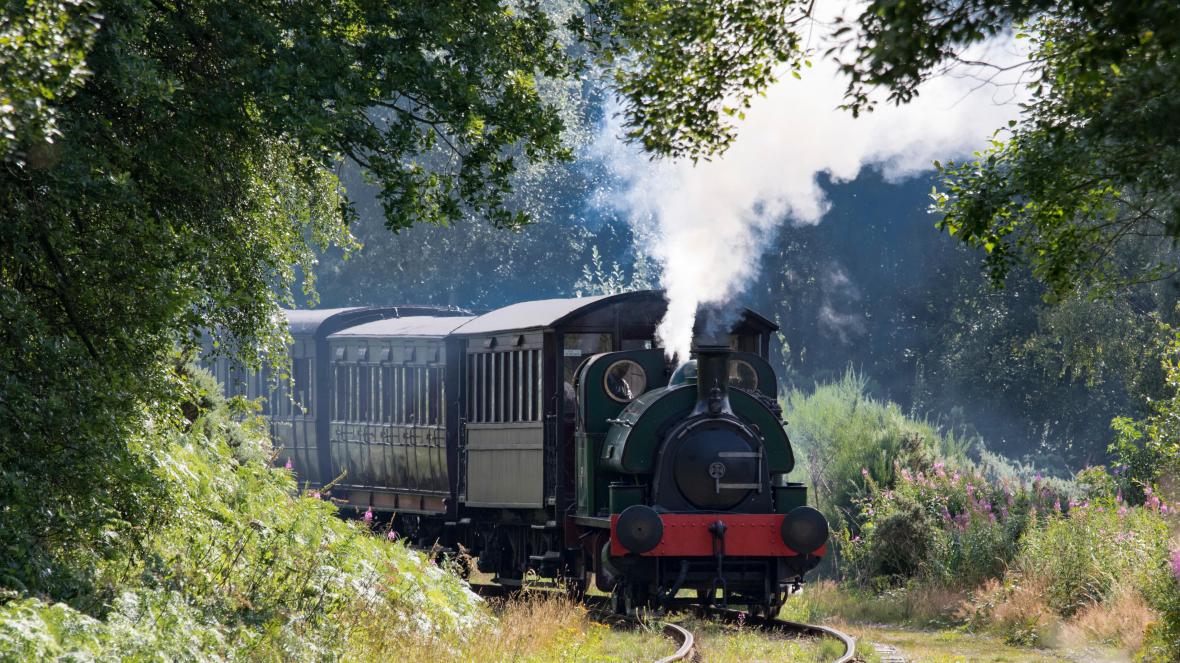 The world's oldest railway (dates from 1725, 100 years before the Stockton & Darlington became the first steam railway).  Meet 10am for steam hauled trip.   A carriage compartment for 6 persons costs £30 and should be booked in advance to guarantee a ride.  Contact the railway direct at: www.tanfield-railway.co.uk. .  Café for coffee/lunch before departing for home.
Meals:  All venues are convenient for suggested overnight accommodation. Contact Barbara to reserve places – see below.
Friday evening: The Wessington Brewers Fayre, Sunderland (next to Premier Inn)
Saturday evening: The Dancing Betty, Dalton Park, Murton, Co Durham
Sunday evening: Oaktree Farm Carvery, Doxford Park, Sunderland.
Accommodation:   The following are suggested:
Premier Inn, A19/A1231, Wessington Way, Castle Town, Sunderland SR5 3HR.
NB:  This is Spring Bank Holiday weekend and the start of half-term – it could get busy so we strongly recommend prompt booking for hotel best prices.
AirBnB – Barbara & Steve have 3 double / twin rooms @ £30 per room per night. Optional continental breakfast £5 per person. Secure parking and WiFi.  First come, first served – contact Barbara on 07810 828868 or dragonlady2810@gmail.com.
(Very) basic camping on Martin's field – suitable for tents, caravans and campers. Cold water tap, toilets, chemical toilet disposal point. Unlimited space and free!
COVID:  All venues have confirmed that they intend being open at the time of our visit.  We will be in contact with venues as the easing of lockdown progresses and will comply with all precautionary measures in place for our safety.
Interested?  To help coordinate our visits, please confirm, without commitment, if hoping to attend all / part of the weekend – email Barbara Hastings: dragonlady2810@gmail.com .
General enquiries, AirBnB and camping bookings:  contact Steve – 07949 800132 or Martin – 07788 281952.