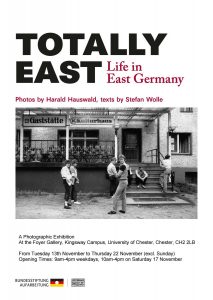 A unique exhibition capturing  life in East Germany before the wall came down is coming to the University of Chester in November.
The photographs were taken by Harald Hauswald, who documented everyday life in Berlin, and selected by Stefan Wolle, director of the GDR Museum in Berlin.
Hauswald trained as a photographer in Dresden and moved to East Berlin in 1978. In the eighties, he took photographs of the life he saw around him – "things that other photographers overlooked or regarded as uninteresting: scenes of everyday life, lonely and elderly people, couples in love, rockers, hooligans and young people in churches standing up for peace and environmental protection.  In East Germany, he did not receive any art award for this, but gotinto trouble with the authorities."
Hauswald often came under scrutiny from the Stasi  and the GDR government, especially in 1987 when he published a collection of his work in the West, with fellow photographer Lutz Rathenow.
A Stasi critique of the book was part of the  1,500 page file they complied on Hauswald, commenting on the project as a whole and on each photo in the book:
"The idea is to present the capital of the GDR not as it is, but according to the ideas of circles hostile to its constitution. The authorship of two young men from within opposition or dissident groups is intended to create a pretense of knowledge and "objectivity"… All stylistic means of an image-based and emotional language are used to mix impressions, memories, real, invented, made up or lying stories into a hodgepodge of half truths and slander, presented to the reader as reality."
Totally East: Life in East Germany will be on show from Tuesday 13th November to Thursday 22 November in the Foyer Gallery, Kingsway Campus.
Read more about Harald and his work in this interview with Deutsche Welle.
The Club hopes to arrange a group visit to the exhibition on Saturday 17th November. Please visit the Facebook group for more details and to sign up.