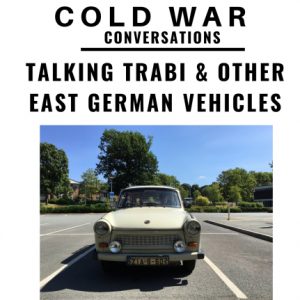 Our favourite car is the star of the latest epsiode of Cold War Conversations, a podcast run by Ian Sanders and Shane Whaley which aims to cover interesting aspects of the Cold War and speak to people who experienced it first-hand.
The podcast team travelled to Staffordshire to meet club members Alex Goffe and Mark Mullarkey for a chat about Trabants, other Eastern Bloc vehicles, why you should join the Wartburg Trabant IFA Club, and just what it is about Trabants that makes them so much fun.
Alex and Mark take listeners for a tour under the bonnet and a short spin on local roads. The podcast is just under 40 minutes and a great listen. Tune in here!