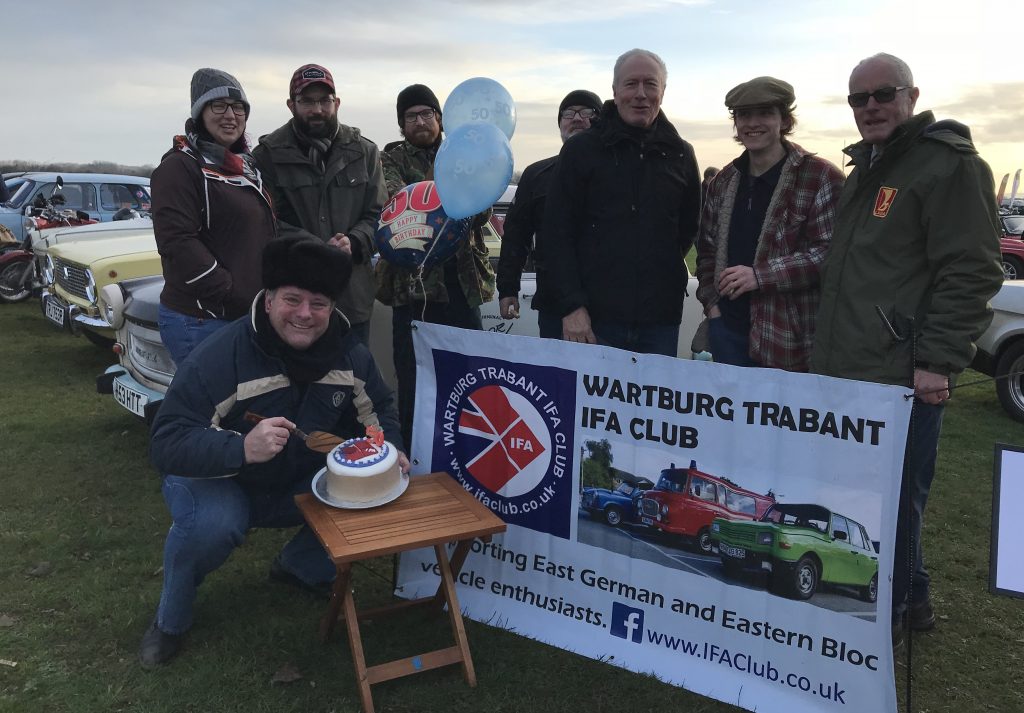 The Wartburg Trabant IFA Club UK launched its 50th anniversary year in traditional style with tea and cake at the first Bicester Heritage Sunday Scramble of 2019.
Appropriately dressed for the weather in an authentic Soviet fur hat, Club Chairman Mel Holley cut the birthday cake and welcomed members and enthusiasts to the Club's pitch with an offer of tea, coffee or hot cocoa.
Among the IFA vehicles making their debut on the Club display were a rat-rod style Trabant Kombi 1.1 well-known on the VW scene, and a pair of restored MZ motorcycles. The heavily-modified Wabant which drew the crowds at the 2018 Lancaster Insurance Classic Motor Show proved equally popular at the Oxfordshire airfield.
Mel said: "We couldn't have asked for a better launch venue for our 50th anniversary year than the Bicester Sunday Scramble.
"Like Bicester, the IFA Club takes pride in our heritage but is determined to make classic motoring relevant and accessible to today's motoring and motorcycling fans.
"The youngest Trabant owner on our stand this weekend was just twenty, driving a car that was already ten years old when he was born. It was a pleasure and a privilege to welcome him to the launch, and we hope that our packed programme of anniversary events will give many more Eastern Bloc vehicle owners – of all vintages – an opportunity to join in."
7 January 2019