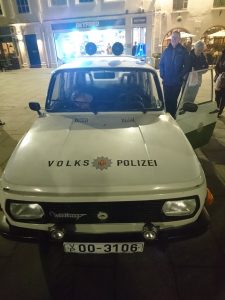 Friend of the Club and owner of a Wartburg 353 in Volkspolizei livery, author David Young will be in conversation with Cold War expert Dr Richard Millington during this year's Chester Literature Festival.
David will be speaking about his Stasi Child series and the in-depth research he carries out to explore the real-life stories that inspire his books.
Stasi Child, the first in the series featuring  Oberleutnant Karin Muller, was a  Times Crime Book of the Month and a Telegraph Pick of the Week, as well as winning  the 2016 CWA Endeavour Historical Dagger for best historical crime novel. Muller's story continues in  Stasi Wolf and A Darker State. The fourth in the series, Stasi 77, is expected in early 2019.
Follow David on Twitter (@djy_writer) for more about his novels, and his Wartburg!
* David and Richard will be in conversation on Thursday 15 November at 6pm. The event is free but tickets need to be booked.